Terms and Conditions
Introduction
This document describes the service that is offered, and the charges levied for those services. It describes the specific levels of service you will receive, and finally describes some actions that are prohibited.
Setting aside the legal and market-speak, we will uphold our end of this agreement to the best of our ability in an honest and straightforward fashion. We will support you with highly technical persons who also understand the social context that this service exists in. In return, we ask that you follow the terms spelled out in this agreement.
The Supplier
XenCentricHosting.com (which is the trading name of Spellings Business Services Limited), from this point forward referred to as "the Supplier" provides virtual and dedicated servers which are access via UDP and TCP/IP. You are responsible for the use of software on your account. All parties entering into this contract must be at least 18 years of age.
The specific operating system, the amount of money charged per unit time, and the unit time itself are agreed upon during commencement of the service.
The purchaser of a product is responsible for its use and will be liable for any charges that come about from misuse or over usage.
Refund policy
We offer a 30-day satisfaction guarantee on all shared hosting packages. If you are not satisfied with your hosting for whatever reason in the first month and wish to cancel, we will refund your hosting fees with no questions asked. Note we do not offer free trials.
We regret that we cannot refund domain names ordered in error, so please check your spelling carefully when placing your domain order.
All other refunds are at the management discretion.
Nominet terms and conditions
All .uk domain name registrations are subject to Nominet terms and conditions. Click on the logo below for full details.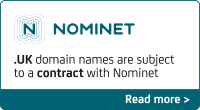 IP addresses
You acknowledge that you have no right, title or interest in the IP address allocated to you, and that any IP address allocated to you is allocated as part of the services and is not portable or otherwise transferable by you in any manner whatsoever.
If an IP address is renumbered or reallocated by the Supplier, the Supplier shall use his reasonable endeavours to avoid any disruption to you.
You agree that you will have no right, title or interest to the IP address upon termination of this agreement, and that the acquisition by you of a new IP address for your Website following termination of this agreement shall be your exclusive responsibility.
Software license and rights
If and to the extent that you require use of the Supplier's software in order to use the Services, the Supplier grants to you a royalty-free, world-wide, non-transferable, non-exclusive license to use the Supplier's software in object code form only. You have the right to authorise your employees, agents and third party consultants and contractors to use the Supplier's software as aforesaid provided that such use is consistent with the terms of this agreement.
You grant to the Supplier a royalty-free, world wide, non-exclusive licence to use all text, graphics, logos, photographs, images, moving images, sound, illustrations and other material and related documentation featured, displayed or used in or in relation to your Website and all associated software ("Content") so far as is necessary in order for the Supplier to provide the Services.
Save as expressly set out herein, this agreement does not:
– transfer or grant to you any right, title, interest or intellectual property rights in the Supplier's software;
– transfer or grant to the Supplier any right, title, interest or intellectual property rights in your Content.
You agree that you will not for yourself, or through any parent, subsidiary, affiliate, agent or other third party:
– copy the Supplier's software except as expressly permitted under this agreement or by law;
– sell, lease, license or sublicense the Supplier's software or the documentation connected with it; or
– use any confidential information of the Supplier.
The Service
You may terminate the service at any time on giving not less than 10 days written notice before your billing is due by emailing billing@xencentrichosting.com or submitting a support ticket. All cancellation are processed on the same business day and any related services are removed within the same time frame. Refunds will generally not be issued unless the Supplier believe that their are appropriate grounds for a request. The Supplier does not offer refunds on dedicated servers under any circumstances. If applicable refunds will only be issued for the previous one (1) month of service and exclude any control panel licensing fees.
Should any part of your account be overdue the Supplier reserve the right to suspend all services associated with your account.
Management of services is limited to 3 hours of individual support per customer per server. Beyond this support is chargeable at £50/hour at the Supplier's discretion.
Reloads on dedicated servers / remote assistance may be chargeable at £50/hour at our discretion.
The 7 day money back is offered on all managed and semi-managed VPS accounts. It does not cover unmanaged VPS Control panel fees will not be refunded. cPanel and DirectAdmin are valued at £7.00/mo. RVSkins and Fantastico are counted as control panels and have an associated cost of £1 each should they be active on your account. The 30 day money back does not apply should you:
1) Choose a product combination which the Supplier consider in its absolute discretion unstable.
2) The Supplier terminates you're your contract with the Supplier for breach of these conditions / You have already claimed money back before
3) You request a refund due to non-use of the VPS or that you are trying to abuse the money back guarantee
4) You request a refund due to a technical issue that you have not bought to our attention via a support ticket.
5) You request a refund due to inability to use the basic functions of a VPS.
6) Things which are outside the Supplier's control (such a network issues at your ISP) stop you being able to access the VPS.
7) Your VPS being overloaded or sites being run on it which are not suitable for the VPS environment.
Requests for refund must come from the email account that we have on file. Should this not be possible the Supplier reserves the right to require proof of identity. In the event that such proof is not forthcoming the Supplier shall be under no obligation to make any refunds.
Your contract with us last and renews for the length of you billing period. For example if you pay every month then your contract is for 1 month. If you pay every 3 months, your contact lasts 3 months and so on. Should payment be late by greater than 2 days we reserve the right to levy a late fee on your account of £4 or 10% whichever is higher. Beyond 3 days late we will disconnect your server and there will be a reconnection fee of £35 for VPS and £50 for dedicated servers.
In return for these payments, you account will have a 99% or better period of connectivity to the public Internet measured in one hour intervals over the period of three months. Further, you will receive technical support for any issues related to your server. Your requested entries in our DNS servers will have the same availability. Should you have a claim, it must be made within 48 hours of the downtime. Connectivity is measured from your server out onto the Internet. This SLA does not cover server downtime caused by hardware issues, client mistakes or planned downtime.
The Website shall be available to visitors pursuant to the Services 99% of the time. Where the Website is not so available due to Downtime, you will be credited with an amount calculated monthly as an aggregate of all Downtime events in accordance with a £1 refund for every 1% beyond 99%
For the purposes of this agreement 'Downtime' means any service interruption of one minute or more in the availability to visitors of the Website pursuant to the Services, but only if the interruption is due to a default by the Supplier resulting in power, network or hardware failure, but excluding software issues.
Outages, including emergency and previously scheduled windows for router, switch or server maintenance, are not to be included in downtime calculations. The Supplier shall make all commercially reasonable efforts to provide you with previous email notification of all scheduled and emergency outages.
The Supplier shall notify you of any report of Downtime, and investigate it using suitably qualified personnel, as soon as reasonably practicable after becoming aware of it, and shall remedy the downtime as soon as reasonably practicable.
Technical support will be provided on a same day basis, usually within 30 minutes, and will be provided by highly technical UNIX administrators.
Warranties
The Supplier warrants to you that all services provided to you by the Supplier shall be provided with due care and skill.
You warrant to the Supplier that:
– the Supplier's use of the Content in accordance with this agreement will not infringe the intellectual property rights of any third party;
– you have the rights, power and authority to license the Content to the Supplier as set out in herein.
Save as expressly set out in this agreement all representations, warranties, terms and conditions whether oral or written, express or implied by law, custom, statute or otherwise and including but not limited to satisfactory quality or fitness for any particular purpose are excluded as far as is permissible under English law. In particular and without prejudice to that generality, whilst the Supplier shall take reasonable care to avoid passing on any viruses or introducing them you the Supplier shall not be liable to you as a result of any virus introduced or passed on to you. You are advised to check the Website regularly for viruses.
Liability
Notwithstanding any other provision in this agreement, the Supplier's liability to you for death or injury resulting from his own negligence or that of his employees, agents or sub-contractors shall not be limited.
The Supplier's entire liability to you in respect of any breach of his contractual obligations, any breach of warranty, any representation, statement or tortious act or omission including negligence arising under or in connection with this agreement shall be limited to the charges levied for the provision of the services in the month in which the damage complained of arose.
The Supplier shall not be liable to you for any indirect or consequential loss that you may suffer even if the loss is reasonably foreseeable or you have informed the Supplier of the possibility of you incurring the same.
Chargebacks
Should the Supplier receive a chargeback relating to your account the Supplier reserves the right to suspended or terminate the service provided to you with immediate effect regardless of the situation giving rise to the chargeback.
Backups
The Supplier does not backup any dedicated servers. It is down to you to backup your information and accordingly the Supplier does not accept any liability for any of your data whether being lost due to your failure to backup your information.
The Supplier will provide data traffic totalling the amount agreed to during your signup process. You will have the ability to halt traffic after reaching this level, or continue and pay a fee for each unit of bandwidth above and beyond the standard amount. The standard amount of bandwidth you are allotted (which is allotted in both upstream and downstream directions) is made specifically clear to you during signup, as is the unit that that bandwidth is measured in, as is the per unit cost of extra bandwidth.
Acceptable Use Policy
You shall not use the services or the servers provided by the Supplier to:
– send unsolicited commercial or bulk email to any party for any reason which may or may not result in a complaint.
– access, or attempt to access a computer or network resource that you are not authorized to access.
– distribute, or make available in any way to any party intellectual property that requires some method of authorization to sell or distribute, which you do not have.
– store, transmit, create, or examine any pictures, realistic or not, of humans, anthropomorphic depictions of human-like creatures, or images suggesting humans that are under the age of 18 years in an either implied or actual pornographic picture.
– forge email headers or TCP/IP packet headers or engage in spoofing.
– distribute worms, trojans, or viruses, or commit or attempt to commit any denial of service attack against any computer, network, or individual.
– violate export controls on any software or intellectual property.
– IRC access is forbidden
– War Bots/X-DCC are not allowed
– No bouncers are allowed
– Shell hosting companies can not be run from our service
– use any peer to peer programs.
– if you are DOSed the Supplier reserve the right to suspend your account to limit the attack. If you are found to have caused the DDOS your account may be suspended or cancelled and you billed.
– Abuse towards the Supplier's staff in the form of verbal abuse or anything else that we deem to be offensive may result in cancellation of your account
– No free hosting companies are allowed on our service due to the high risk of abuse by end clients
– Game servers such as CounterStrike, Half Life 2 and similar are not allowed due to the amount of CPU resources they take
– You must not remove administrative accounts on servers that we use to keep our infrastructure updated and patched. Doing so could result in the termination of your service.
("Acceptable Use Policy")
For the avoidance of doubt, the Supplier does not monitor, and will have no liability for the contents of, any communications transmitted by virtue of the services. Notwithstanding the aforesaid the Supplier reserves the right to withdraw the service without compensation to the you in the event of a breach of the Acceptable Use Policy and any such breach shall be treated as a fundamental breach of contract.
Termination
We reserve the right to terminate your account, and any future business relation with you, for any reason at any time.
Save as otherwise stated in these conditions to the contrary either party may terminate this agreement with immediate effect by written notice to the other party on or at any time after the occurrence of any of the following events:
– the other party being in breach of an obligation under this agreement and, if the breach is capable of remedy, failing to remedy the breach within 14 days after receipt of a written notice of the breach and requiring its remedy;
– the other party passing a resolution for winding up, a court of competent jurisdiction making an order for the other party's winding up or the presentation of a petition for the other party's winding up which is not dismissed within seven days (other than, in each case, for the purposes of solvent amalgamation or reconstruction where the entity resulting from the amalgamation or reconstruction effectively agrees to be bound by or assume the other party's obligations under this agreement);
– the making of an administration order in relation to the other party or the appointment of a receiver over or an encumbrancer taking possession of or selling an asset of the other party; or
– the other party making an arrangement or composition with his creditors generally or making an application to a court of competent jurisdiction for protection from his creditors generally; or
– any event occurs to either party which is analogous to the above in any jurisdiction in the world where either party trades resides or is domiciled.
Termination of this agreement for whatever reason shall not affect:
– the accrued rights and liabilities of the parties arising in any way out of this agreement as at the date of termination and in particular but without limitation the right to recover damages against the other; or
– provisions expressed to survive this agreement, which shall remain in full force and effect.
In the event of termination for whatever reason the Supplier shall not be obliged or required to issue any refunds. The Supplier reserves the right in its absolute discretion to grant refunds in the event that extraneous circumstances exist that the Supplier considers justify a refund. The Supplier shall be the sole arbiter of what constitutes extraneous circumstances and the amount of any refunds that the Supplier may consider appropriate.
Should you wish to cancel this service we must receive notice 10 days before you billing date in an email to billing@xencentrichosting.com or support ticket. Cancellation will be processed immediately unless otherwise requested. No other forms of cancellation will be accepted.
Any violation of the AUP in regard to spamming/hacking done by yourself or one of your clients shall entitle the Supplier to impose a clean up fee in respect of each complaint in accordance with this table .
Also note that we understand that certain violations of the above terms can occur inadvertently, and even as a result of unauthorized access from some third party. We will do our best to weigh the merits of each individual case and act with common sense and an understanding of the technical and social implications of the situation.
Privacy Policy
What information do we collect about you?
We are committed to protecting your privacy. The information that we collect from you will be used lawfully; in accordance with the Data Protection Act of 1998 and GDP. We collect information about you for only two (2) reasons: first, to process your order and second, to provide you with the best possible service.
When you place an order with us we collect and store names, address, email address, security verification information and your IP address you submit your order from. This is for the purposes of processing your order and taking payments.
What do we do with your data?
We promise not sell or submit your details to anyone unless in the course of legal proceedings. The information we hold should be kept accurate and up to date. The personal information which we hold will always be held securely in accordance with our internal security policy and the law.
We will use your personal data to register any domain that are part of your order with the relevant registrars. Note these registrars may continue to hold this data even after you request we erase your records.
We will use your personal data as part of the payment authorisation process (PayPal, Credit Card or Direct Debit) and for fraud detection purposes via third party online services.
Access to your information
You can view all the personal information we hold about you via the online billing portal.
Marketing
We operation an opt-in marketing email database among our clients. You can opt-in and opt-out of this at any time via your pref
Removal of your data
You may request removal of your personal details at any time by logging a support ticket. Note that if you have active services with us, this could result in the termination of them as we are required to hold your details whilst you have active services with us. If you no longer hold any services with us, we will automatically remove all personal data after 6 months of inactivity on your account.
Cookies
Cookies are text files placed on your computer to collect standard internet log information and visitor behaviour information. This information is used to track visitor use of the website and to compile statistical reports on
website activity.
For further information visit www.aboutcookies.org or www.allaboutcookies.org.
You can set your browser not to accept cookies and the above websites tell you how to remove cookies from your browser. However in a few cases some of our website features may not function as a result.
Changes to this policy
We keep our privacy policy under regular review and we will place any updates on this web page. This privacy policy was last updated on 16th May 2018.
SLA
We will provide users with 99% uptime excluding planned maintance. We count uptime to be when the server your website is hosted on is accesible via IP address. This SLA does not cover downtime due to mistakes on the clients behalf, due to account suspension or due to hardware failure. Should this SLA be breached purleyhosting will refund upto 50% of the monthly fees at a rate of £1 of the monthly fee for evey 1% we are below this.
Should you wish to make a claim it must be received within 7 days of the downtime and sent via email to billing@xencentrichosting.com or logged via our support ticket system
Assignment
You shall not assign, transfer, or sub-contract the benefit and/or burden of this agreement, make it the subject matter of a trust or in any other manner make it over to any third party without the prior written consent of the Supplier, which consent shall not be unreasonably withheld.
The Supplier may assign, transfer, or sub-contract the benefit and/or burden of this agreement, make it the subject matter of a trust or in any other manner make it over to any third party.
Force majeure
'An event of force majeure' means, in relation to either party, an event or circumstance beyond the reasonable control of that party including (without limitation) any act of God, inclement weather, failure or shortage of power supplies, flood, drought, lightning or fire, strike, lock-out or trade dispute or labour disturbance, the act or omission of government, highway authorities or any telecommunications carrier, operator or administration or other competent authority, the act or omission of any Internet service provider, war, military operations, act of terrorism or riot, delay or failure in manufacture, production or supply by third parties of equipment or services.
The party suffering the event of force majeure shall not be deemed to be in breach of this agreement or otherwise liable to the other party for any delay in performance or any non-performance of any obligations under this agreement (and the time for performance shall be extended accordingly) if and to the extent that the delay or non-performance is due to an event of force majeure.
If the event of force majeure in question prevails for a continuous period in excess of 1 month after the date on which it began, the other party may give notice to the party suffering the event of force majeure terminating this agreement. The notice to terminate must specify the termination date, which must be not less than 7 clear days after the date on which the notice to terminate is given. Once a notice to terminate has been validly given, this agreement will terminate on the termination date set out in the notice.
Waiver
A waiver of any term, provision or condition of this agreement shall be effective only if given in writing and signed by the waiving party and then only in the instance and for the purpose for which it is given.
No failure or delay on the part of any party in exercising any right, power or privilege under this agreement shall operate as a waiver of it, nor shall any single or partial exercise of any right, power or privilege preclude any other or further exercise of it or the exercise of any other right, power or privilege.
No breach of any provision of this agreement shall be waived or discharged except with the express written consent of the parties.
Invalidity
If any provision of this agreement is or becomes invalid, illegal or unenforceable in any respect under the law of any jurisdiction, whether pursuant to any judgment or otherwise:
– the validity, legality and enforceability under the law of that jurisdiction of any other provision; and
– the validity, legality and enforceability under the law of any other jurisdiction of that or any other provision,
shall not be affected or impaired in any way.
If any provision of this agreement is held to be void or declared illegal, invalid or unenforceable for any reason whatsoever, that provision shall be divisible from this agreement and shall be deemed to be deleted from it and the validity of the remaining provisions shall not be affected. If any such deletion materially affects the interpretation of this agreement, the parties shall use their best endeavours to negotiate in good faith with a view to agreeing a substitute provision as closely as possible reflecting the commercial intention of the parties.
Entire agreement
This agreement embodies and sets forth the entire agreement and understanding of the parties and supersedes all prior oral or written agreements, understandings or arrangements relating to the subject matter of this agreement. Neither party shall be entitled to rely on any agreement, understanding or arrangement not expressly set forth in this agreement save for any representation made fraudulently.
Unless otherwise expressly provided elsewhere in this agreement, this agreement may be varied only by a document signed by both of the parties.
Relationship of the parties
Nothing in this agreement and no action taken by the parties pursuant to this agreement shall constitute, or be deemed to constitute, the parties a partnership, association, joint venture, the agents of each other or any other co-operative entity.
Governing law and jurisdiction
This agreement, and any dispute, controversy, proceedings or claim of whatever nature arising out of or in any way relating to it or its formation, shall be governed by and construed in accordance with the laws of England.
The parties irrevocably submit to the exclusive jurisdiction of the courts of England to hear and determine any suit, action or proceedings or settle any disputes arising out of or in connection with this agreement and to enforce any judgment against their respective assets.
Exclusion of third party rights
The Contracts (Rights of Third Parties) Act 1999 shall not apply to this agreement and no person other than the parties to this agreement shall have any rights under it, nor shall it be enforceable under that Act by any person other than the parties